Red Cross volunteers searching for a drowned young tourist from the United States were led to discovery by a jaguarundi (eyra cat, similar to a mountain lion), which seemed to be guarding the deceased child.
As reported by The Costa Rica Star earlier this week, a flash flood swept away three U.S. tourists swimming in the Blanco river in the Rincon de la Vieja (Old Woman's Corner) National Park, province of Guanacaste. Two victims, a 67-year old woman, a 38-year old man were recovered by Red Cross rescuers on the day of the incident. The 6-year old child would be found a day later.
On Friday morning, rescuers were combing the riverbank about a kilometer from the spot where the boy was last seen, when their attention turned to a jaguarundi that was pacing in a semicircular pattern while grunting towards the water.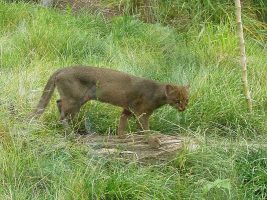 The Arabian sand cat has been seen for the first time in 10 years in the United Arab Emirates.
Endangered Andea Cats hiding in South America
Close your eyes and picture what you believe to be an endangered wild cat. What do you see? Perhaps a snow leopard from Nepal? Maybe a Cheetah from Namibia or a Bengal Tiger? Worthy animals all. But I'll bet that you aren't visualizing the Andean Cat and yet's it is believed to be the most threatened wild cat in the Americas. This small cat is about the size of a typical house cat and just as fluffy. But its low population and elusive nature have prevented it from becoming the viral video star of your Facebook feed.
From a ridge overlooking western Miaoli County, densely wooded hills roll off into the distant sea, the green canopy broken only occasionally by rice fields or rooftops. This is prime leopard cat territory, according to Chen Mei-ting (陳美汀), Taiwan's foremost leopard cat researcher who has dedicated much of her life to the study of these shy, elusive felines.

Taiwan's only surviving wild cat, leopard cats are roughly the size of housecats with tawny black-spotted pelts and thrive in Taiwan's lower elevations of around 500 meters. Areas that mix wilderness with agriculture are particularly hospitable for them as rice fields provide ideal habitats for leopard cats' favorite prey: field mice and other rodents.
Yet despite the beauty and bounty of the Miaoli countryside, the green canopy hides a more ominous reality. While leopard cats are considered a species of "Least Concern" by the International Union for the Conservation of Nature (IUCN), as they are fairly pervasive across a wide range of habitats from Pakistan to Siberia and the Indonesian archipelago, the species is on the edge of extinction in Taiwan. Researchers with the Taiwan Endemic Species Research Institute (TESRI) under the Council of Agriculture estimate Taiwan's leopard cat numbers at less than 500 animals divided into three isolated populations in Miaoli, Nantou, and Greater Taichung.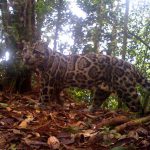 Borneo, the third-largest island in the world, is home to more endemic carnivores than any other island except Madagascar, and about half of them are threatened with extinction,thanks to habitat destruction and fragmentation resulting from logging, illegal hunting, and fires.But an international team led by researchers with the German Leibniz Institute for Zoo and Wildlife Research (IZW) and the International Union for Conservation of Nature and Natural Resources Species Survival Commission (IUCN SSC) has now published a "roadmap" for conservation efforts to save Borneo's wild cats and small carnivores.
https://news.mongabay.com/2016/06/saving-borneos-wild-cats-and-small-carnivores/