Scottish wildcats are out there.
Pioneering work aimed at saving the iconic Scottish wildcat using almost 150 volunteers and 347 trail cameras in five specific areas in Scotland has so far identified at least 19 wildcats based on coat markings.
And it is anticipated more will be found as surveys continue.
The results announced by Scottish Wildcat Action (SWA) follow the installation of the trail cameras set up at five wildcat priority areas over 60 days last winter.
This survey – the largest of its kind – resulted in data which the project team and 139 volunteers have been sifting through over the past few months.
And over the coming weeks a new phase of the project – Trap, Neuter, Vaccination and Return (TNVR) – will see ecologists and vets work together to vaccinate feral cats which pose a threat to the wildcats by spreading disease.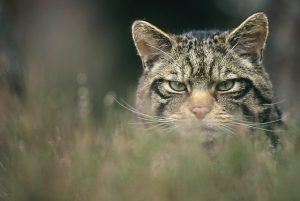 A challenge for the team has been distinguishing wildcats from other cats. SWA partner Dr Andrew Kitchener, a leading specialist based at the National Museum of Scotland, devised a system of scoring animals based on the 'pelage' or coat markings.
Scottish Wildcat Action is a five-year project aiming on six wildcat priority areas outlined in the national action plan. It comprises more than 20 key organisations including the Scottish Government and is supported by Heritage Lottery Funding.
The five SWA wildcat priority areas surveyed total 160,706 hectares – or 620 square miles. They are:
• Angus Glens
• Strathbogie, Aberdeenshire
• Strathpeffer, Easter Ross
• Strathavon, Moray
• Northern Strathspey
Scottish Wildcat Action will work to reduce hybridisation and disease from feral and domestic cats; accidental persecution, and impacts from development.
Scientists were delighted to detect wildcats in four of the five priority areas. Cats were detected on 35% – just over a third – of the 347 trail cameras. Wildcats were found in four of the five priority areas with wildcats making up 21% of these cats.
In the Strathbogie, Aberdeenshire, wildcat priority area alone, SWA detected 27 cats. Six were identified as wildcat based on pelage scores.
Roo Campbell, SWA project manager, stressed: "We are delighted with the results. Though they are preliminary, and further investigation is needed to establish the true numbers present in each of our five priority areas, SWA has established that there are Scottish wildcats out there.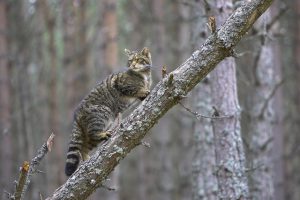 "We have detected at least 19 so far but there are bound to be more as we are still investigating the data from the camera traps. That is surely good news.
"Cats were detected at slightly more than one in three of our trail-cameras. We were delighted to detect wildcats in four of the five priority areas, with wildcats making up almost a quarter of cats detected in these areas.
"And in the Strathbogie wildcat priority area in Aberdeenshire, SWA detected 27 cats, of which six were identified as wildcat based on pelage scores. This is higher than a previously reported Scotland-wide ratio of one in eight and highlights the importance of our priority areas for wildcat conservation.
"Other thanks go to the landowners who have been working with us on the survey. We now need to follow this, and other actions, to protect the wildcats present in those areas."
Keri Langridge, the Scottish Wildcat Action project officer responsible for population monitoring, added: "We are finally at the stage where we have identified all the animals in the 200,000 trail-camera photos collected.
"We have been going a bit cross-eyed scoring these cats, and, as is usual, we have decided to name the best examples. We've got one called Tarzan because he is so good at climbing!
"More seriously, our next step during the coming months is to use sophisticated statistical analyses to estimate the population density of wildcat in these areas based on the sample we found."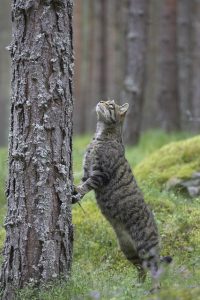 TNVR is already widely used, and is a vital tool in the arsenal to protect wildcats from hybridisation and disease from feral cats. It's a safe non-lethal method with the highest cat welfare standards built in. No pet cats are at risk from TNVR.
Emma said: "All this work would not have been possible without the huge effort put in by our teams of loyal and dedicated volunteers.
"I know of one volunteer who surveyed her cameras on horseback, while a mobility scooter user also got out there and did her bit. This shows the true, Scotland-wide effort that has gone into the survey work, and has helped us piece together the big picture of wild-living cats."
In the Strathavon priority area, only cats with low levels of wildcat ancestry were detected and project volunteers will now invest effort this winter in locating wildcats which may have been missed during the first survey.
The survey also detected more than 20 other species, the most unusual being a raccoon, an animal not native to Scotland. The most common species found were roe deer (63% of trail cameras) followed by pine marten (60%) and badger (45%) with the latter two frequently stealing the bait intended for attracting cats to the cameras.
Notes to editors
Scottish Wildcat Action is a partnership project uniting experts from more than 20 key organisations.
The Scottish Wildcat Action Steering Group comprises Scottish Natural Heritage; Forestry Commission Scotland; Cairngorms National Park Authority; National Museums Scotland; Royal Zoological Society of Scotland; Scottish Gamekeepers Association; Scottish Wildlife Trust; National Trust for Scotland; The Royal (Dick) School of Veterinary Studies – Edinburgh University.
Other organisations who have committed to delivering the Scottish Wildcat Conservation Action Plan: Aigas Field Centre; British Association for Shooting and Conservation; Chester Zoo; Highland Council; Highland Foundation for Wildlife; John Muir Trust; Loch Lomond and Trossachs National Park Authority; National Farmers Union Scotland; Royal Society for the Protection of Birds; Scottish Land and Estates; Wildlife Conservation Research Unit, Oxford University and Aberdeenshire Council.
The Scottish wildcat (Felis silvestris silvestris) is one of our most endangered mammals and our only remaining native cat. It urgently needs action to save shrinking populations in the wild. Following habitat loss and persecution through the 19th century, the wildcat is now restricted in the UK to the Scottish Highlands north of the central belt.
FAQs available on www.scottishwildcataction.org
Photo credits: Peter Cairns, The Mammal Society