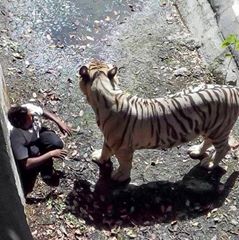 September 2014 – Shocking video and photo's of a tiger killing a 20-year boy who violated the Delhi Zoo's rules by jumping over the fence inside the tiger enclosure.
The tiger did not instantly kill the boy, only after the people threw stones at him and the boy presented himself as prey. The tiger in the end only acted naturally. Dinner was served and it is not polite to refuse, right? Let this also be a lesson for the so many parents encouraging their children to climb the walls and fences of big predators during their visit to the zoo. Tigers are no pussycats…to them this is just another meal thrown in their enclosure… yesterday a cow, tomorrow a pig… today a child.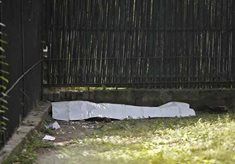 It is very sad for the family (and the boy) but still… let this be a very hard and tragic but also a good and final lesson!!!
See the Facebook video.