Babette
Like we always say: the small(est) cats are as important as the big(gest) ones. Rusty spotted cats, one of the gorgeous smaller species, smallest cat of Asia, like the black-footed cats are of South Africa… smallest of the world!
This picture from the Mara Cheetah project shows the reality of nature. This leopard killed the cheetah and is actually treating it like any other prey: hanging it in the tree and eating it. The strength of a leopard, leaving no chance to eat and food go to waste, even if this means (or even so!) eating another predator.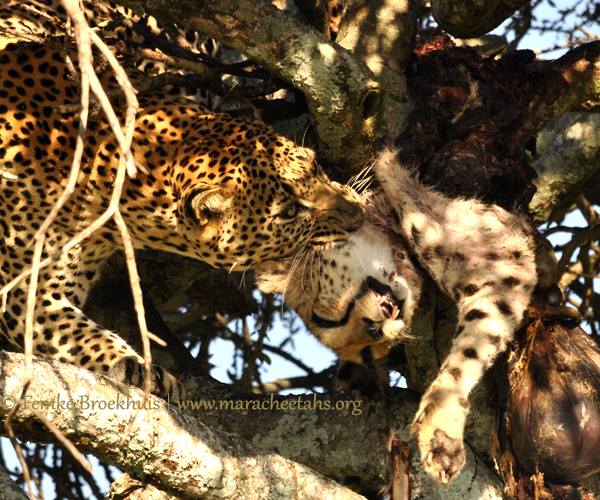 It is difficult to see, also for us working with/for both species, but we have to be realistic here too. It shouldn't affect us more than any other prey animal that gets killed and hang in the tree to serve for dinner, but it still does? It is luckily an unusual sight, not happening too often, but with the cheetah having difficulties to survive in the wild we hope this will stay a rare occasion. Even though we also agree: the leopard has to eat (every coin has two sides)!
In an incredible wildlife moment a leopard leapt from a height of 40 feet to snare a spot of lunch.
The cunning big cat dives from a tree into a herd of startled impala, quickly pinning one of the animals down.
The African antelope moved to graze underneath the tree, unaware that the crafty predator was lurking in the branches several metres above them.
Full article: DailyMail.co.uk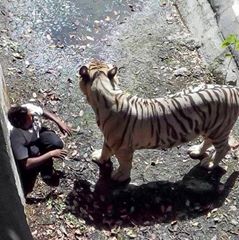 September 2014 – Shocking video and photo's of a tiger killing a 20-year boy who violated the Delhi Zoo's rules by jumping over the fence inside the tiger enclosure.
The tiger did not instantly kill the boy, only after the people threw stones at him and the boy presented himself as prey. The tiger in the end only acted naturally. Dinner was served and it is not polite to refuse, right? Let this also be a lesson for the so many parents encouraging their children to climb the walls and fences of big predators during their visit to the zoo. Tigers are no pussycats…to them this is just another meal thrown in their enclosure… yesterday a cow, tomorrow a pig… today a child.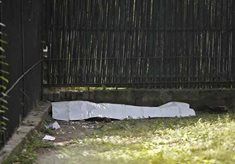 It is very sad for the family (and the boy) but still… let this be a very hard and tragic but also a good and final lesson!!!
See the Facebook video.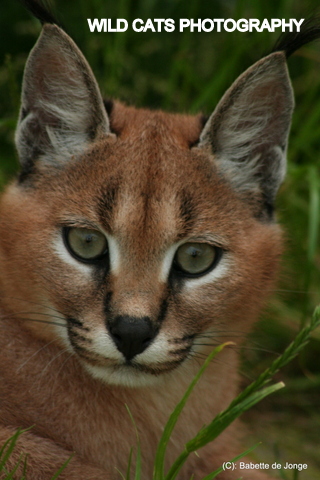 Of course you died far too young
But the memory to you is still so strong
You clearly came to us for a reason
We will remember you, throughout every season…
Showing us who were so wrong, and who were right
United we (WCW) will stand in the continuous fight
No one has the right to molest an innocent creature
A sweet lovely caracalgirl who had a bright future
Many of us did shed a tear
But some are still in denial and don't want to hear
We know we are right and forever have to miss you
Somehow we believe in the end justice will prevail too.
No more free PR for the horrible place that took your life
Hurting us deeply like a deep cut from a knife
To destroy this so-called sanctuary they don't need a helping hand
As clearly animal care and conservation is what they still don't understand
We scattered your ashes at our project in South Africa
Your spirit will guard over the caracals Leo & Lea